Scion tC: Take On The Machine

In 2010, Scion updated their bestselling tC with better performance features. To introduce the upgraded model, we created a fully integrated campaign that showed off those features. Instead of a car navigating cones, we'd have the tC taking on a city come to life. The cinematic Take on the Machine campaign would treat the arrival of the new tC like the release of a Hollywood tentpole picture.
We teased the car with a print and outdoor campaign. For launch, we ran a 60-second 3-D spot in theaters. We paired the trailer with an in-lobby lenticular poster to pump up the 3-D angle.
All the marketing lead to a groundbreaking augmented reality game at TakeOnTheMachine.com. We teamed with North Kingdom to build an online driving experience where players could take on the machine themselves. Players could print out an AR marker designed like a steering wheel to navigate the obstacles in the "machine". Street teams brought the experience to consumers to see the spot in 3-D and also play the AR game live.
The augmented reality site won FWA's Site of the Day in November 2010 and named in AdAge's Best Ads. It also picked up a Merit for best gaming site in the One Show 2011 Entertainment Awards.
The above cinema spot was shown in 3-D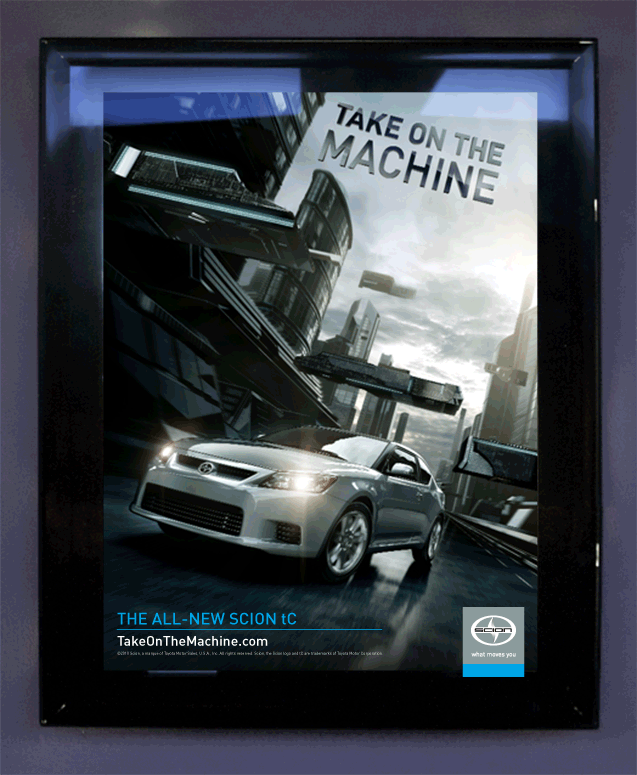 Theater Lobby Lenticular Poster