United by Individuality

We wanted to celebrate the devoted Scion owner community by featuring them in a campaign. We decided to shoot in the Nevada desert outside of Las Vegas. But how would we assemble the massive amount of owner cars in Vegas without breaking our budget? Hold an owner event. Scion would foot the bill for accomodations and thank the owners by having a massive party in the desert while we shot their cars.
The Scion United event had music, prizes, aftermarket vendors and art shows. FloRida, who at that time had the number one single in the country, headlined the all-night concert. Almost five hundred owners drove out to the middle of the desert on their own dime to attend.
We spent three days shooting their cars for an epic 60-second anthem spot celebrating the owners. We set-up two camera tents and shot profile stills of each of the hundreds of cars over 24-hours. Two designers worked in shifts shooting the Scions, non-stop. We used all the assets collected over that weekend for the next 18-months: four broadcast spots, a dozen print ads and untold online executions.
Meanwhile, hundreds of owners went home happy and spread the word online. They could relive the event at the website. We had a gallery of the event and all their cars for them to download as wallpapers. Three lucky owners had their cars and names featured in billboards. Owners proudly pointed out their cars online in each of the executions. Through blogs and forums, they confirmed what they already knew: Scion is a brand that cares about their drivers.
The Scion United site won FWA's Site of the Day. Barbara Lippert even gave the campaign a rave in Adweek.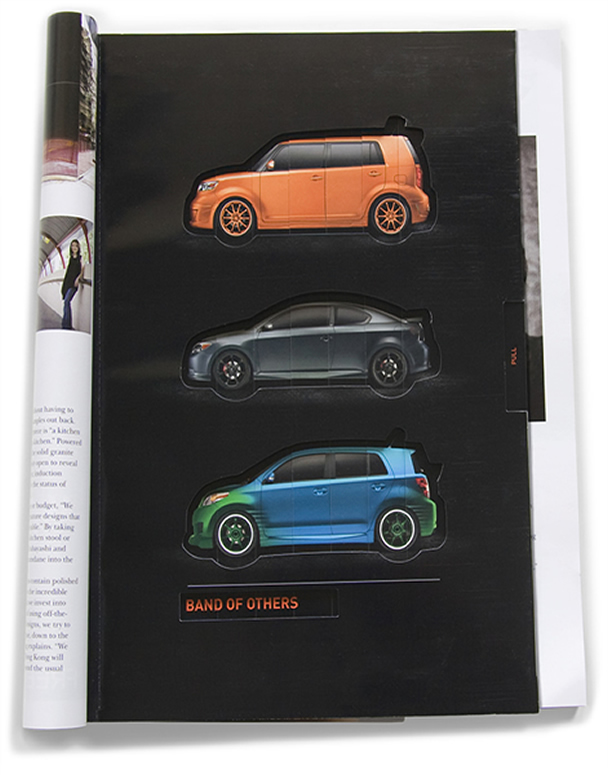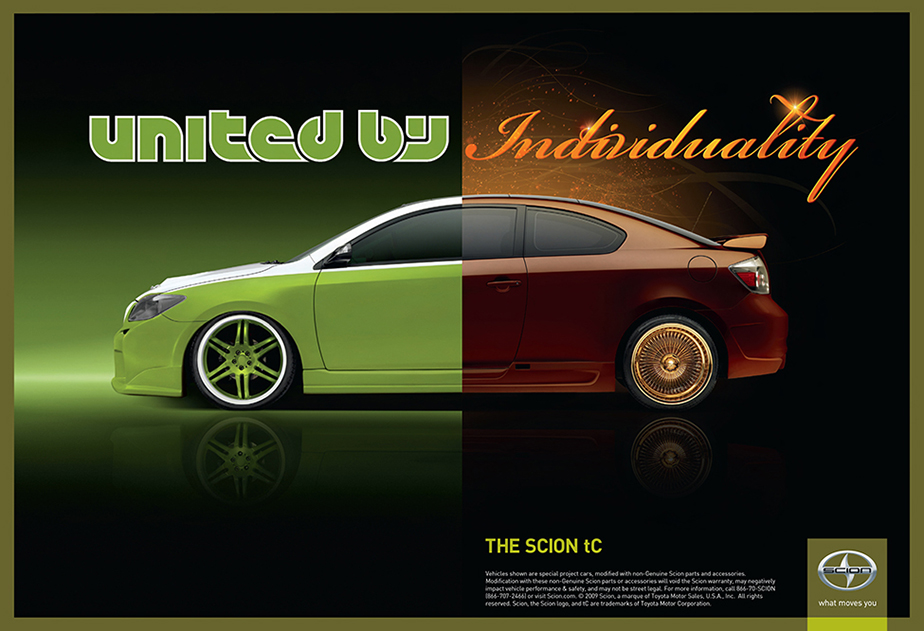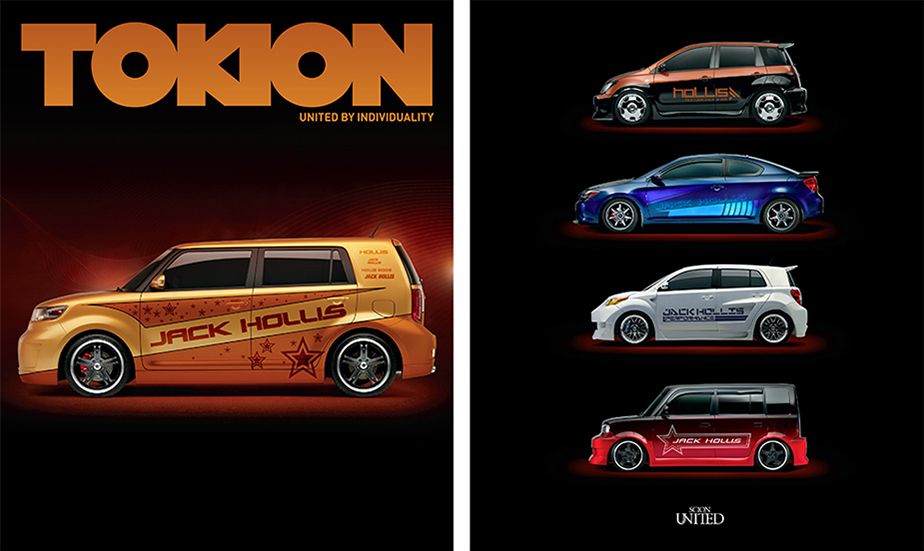 Using their subscriber list, each individual copy of Tokion magazine had a wraparound cover
featuring personalized, customized cars with the subscriber's name emblazoned across the side

Scion United Site
---
Scion xB Polarization

With new competition from the Kia Soul and the Nissan Cube, Scion wanted to remind consumers that, even with a redesign, the xB was the original polarizing boxy car. Some people love it, some hate it. Instead of running away from this fact, we chose to own the boxy look.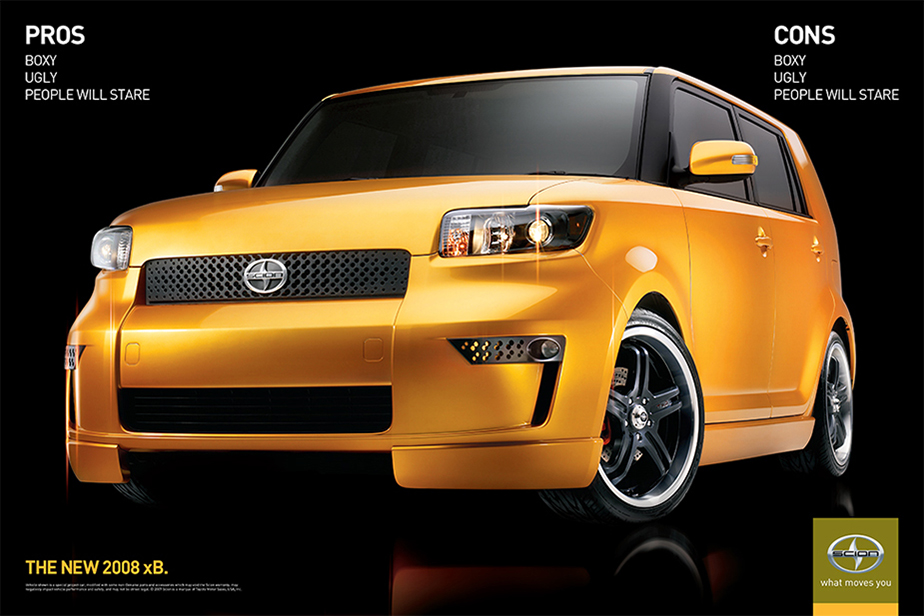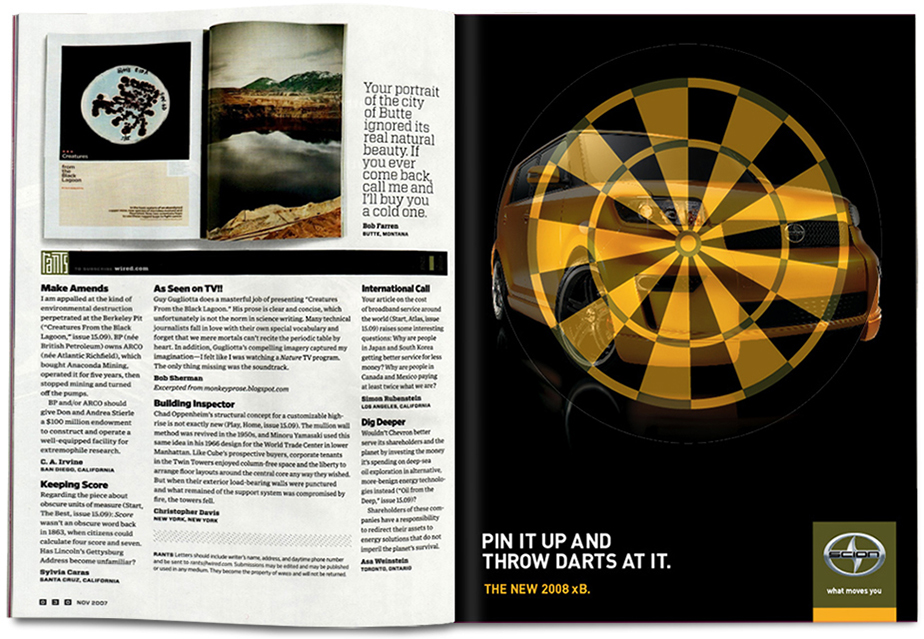 Mouseover to reveal message under acetate overlay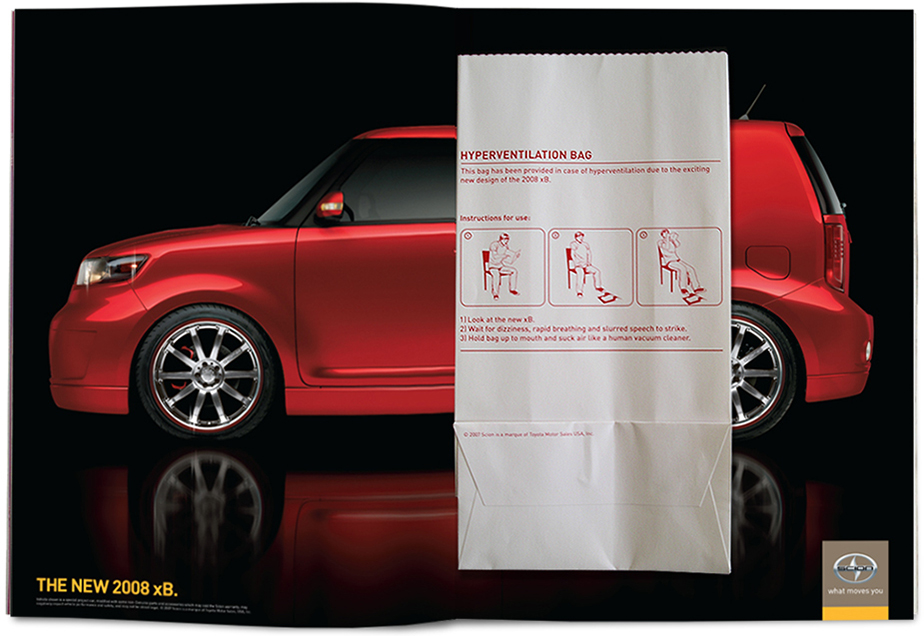 Mouseover to see other side of bag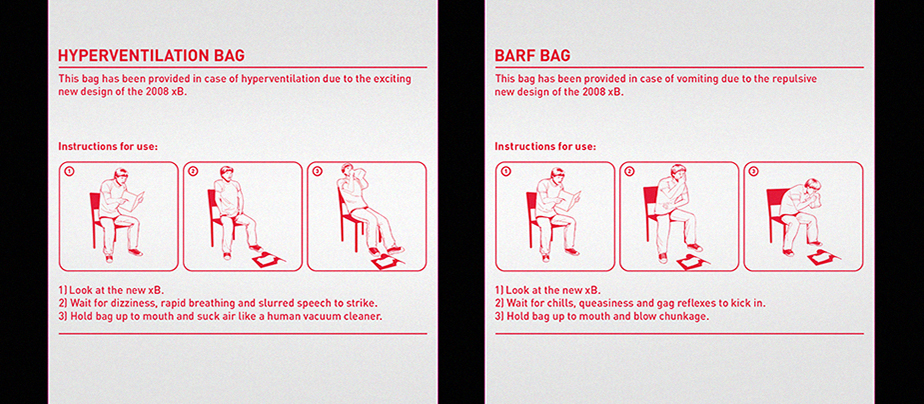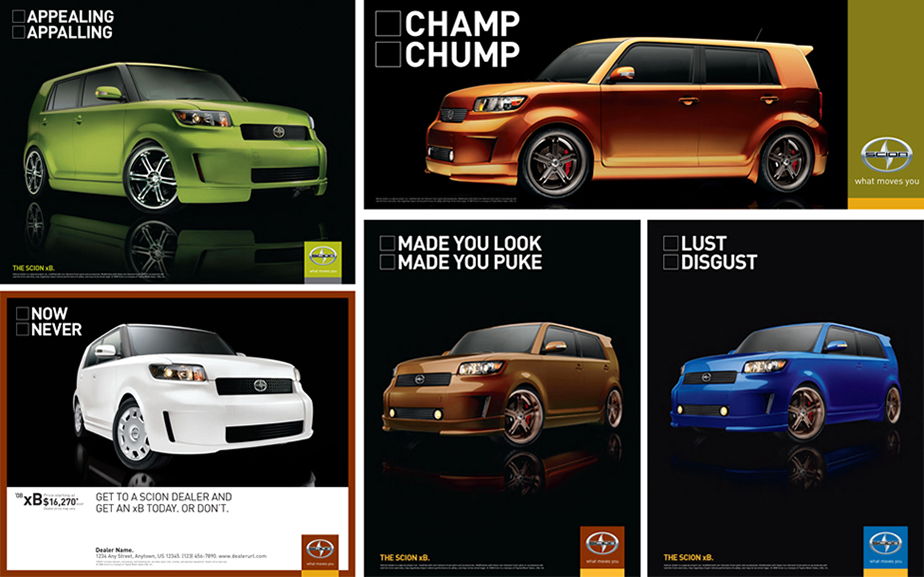 ---
Scion iQ rollout
Scion was introducing the iQ, their first entry into the microcar category. They wanted to talk about it's key features: its compact size, the world's tightest turning radius and it's ability to seat four adults. The fact that a microcar could seat four people was a true curiosity. We seized on that feature to turn the iQ into a vehicle worthy of study.

laying on the brainy name, we created the iQ scientists. They cannot believe all the features crammed into such a tiny car. They prod it, poke it and investigate this small miracle of automotive engineering.